Opening with the Reproduction of the Old Shimbashi Station
This is a free exhibition Hall that anyone can feel free to use. This Hall introduces the history of Shiodome – the birthplace of railways in Japan. Together with this, it is possible to see the development and impact of the railways that led the modernization of Japan in the Meiji Era (1868 to 1912) through various things.

40th Current Exhibition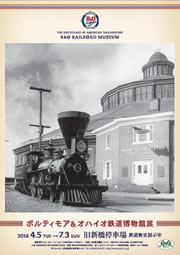 Baltimore & Ohio Railroad Museum Exhibition

April 5 (Tue) to July 3 (Sun), 2016
The Baltimore & Ohio Railroad Museum in the State of Maryland in the United States is located in the area where the railroad operation first started in the United States. This is an extremely venerable museum with a collection of 200 railroad cars and many materials on railways.

We will now be holding the Baltimore & Ohio Museum Exhibition in the Old Shimbashi Station Railway History Exhibition Hall, is located in the place where the railway operation first restarted in Japan. Together with an introduction to this museum, this exhibition will also showcase both the city of Baltimore – a land connected with the American Revolutionary War – and large railroad-related museums in North America.